POPS
Dear Families of Primary Students,
We are excited to be hosting many of you at our POPS (Parents of Primary Students)
Reading session next Tuesday, February 20th from 5:30-7:30 pm. Thank you to all who
have indicated your attendance. At this point, we have over 100 families who are
planning on attending (160 adults, 130 primary children and 40 toddlers).
Due to the large crowd that we are anticipating for this evening, we are planning to do
the best we can to speed up the arrival process and ensure smooth transitions
throughout the night. Below is the shape of the evening with some information on
where you and your children should be at various times throughout the POPS
session. The doors will open at 5:15 so that we can get started as close to 5:30 as
possible.
5:15-5:30
Welcome! Below are the following places where children, toddlers and adults should
be. Colours are coordinated with the room they will be meeting in:
• Toddlers to Mrs. King's room (Room 128) Once this room is full, we will send
toddlers to the music room. (blue)
• Kindergarten students to Mrs. Kelly's room (Room 141 – orange)
• Grade One students to Mme. Quon's room (Room 105 – yellow)
• Grade Two students to the library (green)
• Grade Three students to Mme. Calado's room (Room 148 – purple)
• Adults to the gym.
5:30-6:00
• Adults in the gym
• Children remain in locations listed above.
6:00
• Adults pick up their primary children and rotate through various Reading centers
(you will have a map that indicates which classrooms are open with centers)
• Toddlers remain in Mrs. King's room and music room while parents are learning
together with primary children
6:45
• Drop your primary children back off at their original location listed above
• Adults head to the gym for an adult only debrief
• Toddlers remain in Mrs. King's room or music room
7:00
• If you have toddler/s in attendance, you will be asked to pick them up and bring
them to the gym
• We will then make an announcement for staff to accompany primary children to
the gym for ice cream sundaes and door prizes
We are still in need of some door prizes so if you're able to donate an item, it would be
greatly appreciated. We're looking forward to a wonderful evening of community
building, fun and learning!
Sincerely,
James Kennedy Staff
Mrs. Jen King
École James Kennedy Elementary School
Grade One Teacher
Langley School
Christmas Season is all the buzz!
Our building is full of the Christmas spirit as we head into our Christmas Season. Our Giving trees are filling up underneath with gifts for families in need. Spirit day is in full swing with Red & Green. Plus the sounds of music filling our hallways with the Christmas Spirit! Wishing everyone the very best of the season.
Monday, June 12, 2017
Dear Parents/Guardians,
Spring is quickly moving into summer and as we head into the final  three weeks of school there are a number of great events happening at the school.  I will list as many as possible here and Mrs. Sollows will continue to send out regular email reminders for you.  All of the the events listed here can be found on our JKE Calendar at https://jke.sd35.bc.ca/news-events/
We are currently upgrading our school logo and colours to be more modern and in style.  Our current colour of dark burgandy has lived out it's time and we are ready for a change.  Our new school colour will be a bright  blue and Mr. Main is putting the finishing touches on our new jaguar logo.  Mr. Bako, your new principal next year, and Mrs. Roberts will have the honour of unveiling our new look in the fall.  We will have student/staff/parent wear available for purchase next year and student jerseys will get a much needed update.  Our student athletes are excited for the change!  It is an update that staff and students are looking forward to.
The school district is moving to a Parent Portal to give you access to your child's progress reports on line.  Last week you should have received an email from Mrs. Sollows explaining the process and letting you know that you will soon receive an email from the district with logon information.  If you did not receive the school email last week, please let us know.  Paper copies of progress reports will no longer be sent home.  Everything will be made conveniently available for you online.  We will continue to send out information as it becomes available to us.  This is a new system for teachers, administrative assistants, administrators and district staff, please be patient as we work out all of the details on the implementation.  Thank you.
Events Coming Up!
Tues., June 13     1:00 pm  Intermediate Band/Recorder Concerts 1:00 pm and 7:00 pm.  All Welcome
Tues., June 13     3:00 pm  All Wheels Event for RC (remote control) racing on the primary blacktop
Thurs., June 15   1:00 pm Talent Show in the gym.  All Welcome
Fri., June 16        Hot Lunch Day:  Pizza and Menchie's!
Tues., June 20    Sports Day!!
Wed., June 21     National Aboriginal Celebration Assembly at 9:00 am.  All Welcome
Fri., June 23        Back up day for Sports Day in case we get rained out on the 20th.
Tues., June 27    Grade 7 Farewell arrive at 5:45 pm  Ceremony begins at 6:00 pm
Wed., June 28    All Intermediate Classes Cultus Lake Waterslides Trip
Thurs., June 29  9:00 am Farewell Assembly.
Thurs., June 29  Dismissal and Progress reports – This is a half-day so students will be dismissed at 11:30 am or noon.  Exact time yet to be announced.  I will get it out to you as soon as I have confirmation.
I leave you with some beautiful student art to enjoy.
Have a great week, everyone!
Ms. Michelle Guillou
Principal École James Kennedy Elementary School
Polaris: Portable Planetarium at JKE!
Monday, June 1
Thanks to the generous support of the PAC all of our students are experiencing a visit to the Portable Planetarium in the gym this week.  The starlab is here until Friday at 2:45 pm.  Feel free to drop by and check it out!
http://www.spacecentre.ca/starlab
May 3, 2017
May 3, 2017
Dear Parents/Guardians,
Track and Field
A big thank you to all of the parents who came and helped out with the Track and Field events yesterday.  We could not have done it without you.  Special thanks go out to Mr. Knox and Ms. Dinner for organizing the Track and Field day and to all of our intermediate teachers and support staff  for supporting the event.  These are the days that make school memorable for kids.
DPAC Parent Survey
District Parent Advisory Council (DPAC) is the collective voice of the parents of the Langley School District (SD#35).
In the interest of serving your needs to the best of our abilities, we encourage all parents to complete this short survey to assist us in the future planning of how to serve all PACs and parents better.  We encourage you to email the following link to all your parents and encourage them to participate.
https://docs.google.com/forms/d/e/1FAIpQLSdPecGv5WeU8SPd1B_L2mSVdtIbpDTZU1xnSWAZ9bXdnnCUqw/viewform?usp=sf_link
This survey contains 24 questions and should take you approximately 5 minutes to complete.
We appreciate your participation, and thank you for your time.  If you have any ideas or questions about or arising from this survey, please feel free to contact us:  info@langleydpac.ca.
May the Fourth Be With You!
Tomorrow is our May the Fourth be With You spirit day.  Students are encouraged to come dressed as their favourite Star Wars character to earn points for their class.  The primary and intermediate classes with the most points win a magic show in the afternoon.  Mrs. Pimentel will be offering a variety of coding sessions during the day for preschoolers and adults. The  showcase will be after school in the gym and students will be showcasing their projects and learning.  Come on out and join us!
Electronic Report Cards
This year we are piloting the Parent Portal on MYEDBC.  There are several benefits associated with being able to access this feature on MYEDBC for parents.  Once we are fully implemented, Parent 1 Portal will give parents access to check attendance, class progress, student schedules and also download report cards.
This year will be able to give parents access to student report cards online.  Parents will be getting an email from MYEDBC with instructions on how to set up their account.  Parents who do not have access to the internet, or are having difficulty getting access, please call or email the office to request a paper copy that can be picked up beginning July 4th.
Your Portal must first be logged into on a computer and then it can be accessed through a mobile device.  If you need access to a computer to initially log into your account, come to the office during the last week of school and we will have a computer available for parents use.   Once you have logged in on a computer you will have access to the complete Portal on your phone.
Parents will need to have an email account to be able to access the Parent Portal.
If you need assistance with your Parent Portal, please email MyEDBCSupport@sd35.bc.ca or contact our office.
Our School Goal
Inquiry Question:
How can we develop in James Kennedy students the skills we believe they need to have in order to be successful learners and contributing members of society?
Staff and students are having regular discussions around self-regulation, problem solving and habits/behaviours that lead to success in school and in life.
We will be spending our Pro. D day exploring this topic further and developing lessons and materials for the classroom.
I will be sharing out some of our work in the coming weeks.
Have a great week, everyone.
Michelle Guillou
Principal James Kennedy Elementary
Newsletter May 1, 2017
Monday, May 1, 2017

Dear Parents/Guardians,
Spring may not quite be in the air yet, but the cherry blossoms are still arriving in full form and we have many events coming up at James Kennedy to keep our minds off the cool rainy weather.
Mrs. Sollows does a great job sending out timely date and deadline reminders to everyone, but if you ever lose an email, you can always look back here to our newsletters for a complete list of dates.
Some Dates to Keep in Mind over the Next Two Weeks: 
Monday, May 1          1:00 pm Art Starts Production:  Aché Brasil – All Welcome
Tuesday, May 2          9:00 am to 2:45 pm  Intermediate Track meet for all grade 4 to 7 students
Tuesday, May 2          7:00 pm Final Transition to Middle School Meeting at WGSS in the library
Wednesday, May 3     9:00 am and 10:30 am Introduction to Band sessions for grade 5 students
Thursday, May 4        May the Fourth be With You! JKE Spirit Day and Coding and Robotics Showcase
Thursday, May 4        3:00 pm to 5:00 pm Go Girls program
Thursday, May 4        6:00 pm to 8:30 pm PAC Movie Night – Rogue One
Friday, May 5             Professional Development Day – Students do not attend today
Monday, May 8-10   Grade 7 Camp at Camp Jubilee
Monday, May 8         Fruit and Vegetable Delivery to classes
Thursday, May 11     1:30 Early Dismissal for Collaboration Afternoon
Thursday, May 11      9:00 am to 1:30 pm Jump Rope for Heart in the gym
Friday, May 12           9:00 am to 2:30 pm  Jump Rope for Heart in the gym
Friday, May 12           PAC Hot Lunch Day
   Principals' Visit April 26, 2017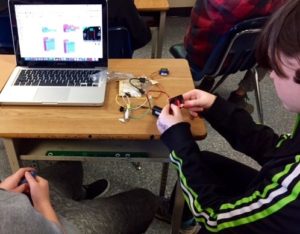 Last week our school hosted all of the Elementary Principals in the District and the District Leadership Team for our monthly principals' meeting.  Our teachers opened their doors and allowed guests into their rooms to observe the great learning happening at James Kennedy.  The principals saw: Aboriginal Learning, Guided Reading, Coding, Robotics, Peace Circles, Solo6 Writing Program, our Lego wall, our Body Break room, and so much more.  I always like to ask any guest to our school about their experience, in our halls and in our classrooms.  The overall theme that I heard back from the principals was how much they liked seeing the active learning happening in our rooms.  Our teachers work very hard to create active learning environments where students can become engaged learners, not just passive recipients of information.  At JKE we strive to engage all learners, everyday.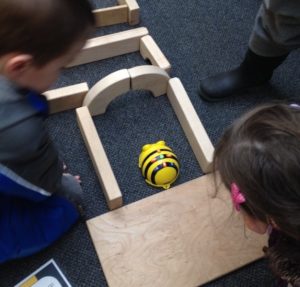 Track and Field
On Tuesday, May 2 our intermediate students will be running track and field events all day to qualify for the regional track meet that will be held on Friday, May 26th at Walnut Grove Senior Secondary.  Please ensure that your child comes to school wearing appropriate athletic wear and has a water bottle to take around to each event.
Parent Helpers Still Needed: We are still in need of parent helpers for our Track and Field day.  If you are available to help run events and do some timekeeping please let Mr. Knox or Ms. Dinner know or call the office 604-888-5257.  Thank you, in advance for your support.
May The Fourth Be With You!
On May 4th we will be hosting a school wide spirit day led by Mrs. Pimentel.  The day will be filled with many learning opportunities for preschoolers to adults, displays, and a showcase after school.  The PAC is supporting our day by hosting a movie night starting at 6:00 pm and the movie is Rogue One.  For more more information, please go to the agenda at:  Star Wars Day Agenda
To sign up for sessions go to: Coding and Robotics Session Sign-Up 
Don't forget to dress up as your favourite Star Wars character!
Jump Rope for Heart
Special thanks to Mme Foulds who will be running our Jump Rope for Heart days on Thursday, May 11th and Friday, May 12th.  The schedule accommodates only a few classes jumping at one time.  Please check your child's agenda to find out what day and time they are jumping to raise money for the Heart and Stroke foundation.  This charity is near and dear to my heart and I have been supporting it for many years.  This year, as an added incentive, Mrs. Roberts and I have challenged the school to raise more than $15,000. for life saving heart and stroke research.  If JKE raises over $15,000.00, Mrs. Roberts and I will wear purple wigs every morning for a week when we do our cross-walk supervision in the morning and after school.  Healthy kids, healthy hearts, and healthy lives!  GO-JKE-GO!!
Political Guests
Mme St. Pierre is organizing our Student Vote this year for our intermediate classes.  This past week, Mr. Rich Coleman the Liberal Candidate and Mr. Bill Masse from the Green Party talked to our students and answered their questions.  Students have been studying the electoral system in class and they each prepared questions for the candidates about the electoral system and about issues in their community.  Here is Mr. Coleman addressing the students.  We thank both Mr. Coleman and Mr. Masse for taking time out of their busy schedules to visit with us.  They provided an excellent learning opportunity for our students.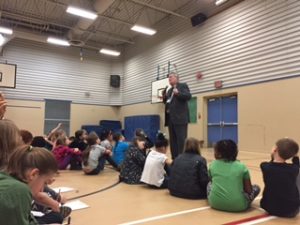 I always like to leave you with a little bit of hallway art and this week, I saw this truly inspirational piece by Mme Charron's Kindergarten class.  Thank you, Kindergarten students; together you are a masterpiece!
Have a great week, everyone.
Michelle Guillou
Principal École James Kennedy Elementary
Newsletter March 10, 2017
March 10, 2017
Dear Parents/Guardians,
We have enjoyed a week of band concerts, puppet plays and Parent/Teacher Conferences and it was wonderful to see you all at the school supporting students with their learning.  Our intermediate grade 6 and 7 students performed an afternoon and evening concert on Tuesday, March 7; special thanks to Mr. Rogers and Mrs. Roberts for preparing the students to perform.  The students did an amazing job after much instruction, effort and practice.
Parent/Teacher Conferences and Student-Led Conferences were well attended with 509 appointments booked out of a possible 672.  If you were unable to come in and celebrate your child's learning, and would still like to see their work, please let the teacher know and a little time before or after school can be arranged for you to come and sit with your child in the room to look over the work.  Sometimes a parent's interest and congratulation is all that is needed to give a child that little "push" to the finish line of June.  Your words of encouragement are so important.
The Langley School District celebrates diversity in our schools and community.  I have included a letter here from Mr. Gord Stewart, our acting Superintendent outlining how the school district is working with all members of the school community to specifically learn how to best support individuals who identify as LGBTQ+.
Letter to Parents – Langley Celebrates Diversity 2017Mar2
Policy For Producing Information For Students, Parents and Third Parties:
Langley School District schools receive a number of requests every year for student information from numerous parties, specifically letters of enrollment and copies of student report cards.  The district will now be charging per copy for all requests.  Below are a couple of examples of requests and charges.  Most requests for copies require three to five working days to be completed and payment for services must be made in cash at time of request, cheques will not be accepted.  If you have any questions, please ask at the office.
 Enrollment Information request – attendance/proof of schooling, etc..  $20.00
Copy of previous year report cards – $10.00

Will You Be Moving Away Next Year?:
The office is beginning to look ahead to next year's enrollment numbers.  In order to help us plan can you please let Mrs. Sollows know if you will not be returning to James Kennedy next year.  If you know that you will be moving and it is confirmed please send an email or call Mrs. Sollows.  This will assist us greatly with our planning.  Thank you.

Class Placement Requests:
So how does the class placement process work?
Your child's current grade level teachers, Resource Room teachers and Administration meet multiple times over the course of June and September. As we begin, we remind ourselves of the importance of the task in which we are engaged and of the respect that must be shown for every child, parent and teacher throughout the process.
Each child's name is recorded on an index card coded with significant information: current class; gender; reading and math levels based on grade wide assessments; and a degree of special attention required for any reason – enrichment and/or support, social/emotional, behavioral or health. We then place those index cards into groupings representing classes. Each child's placement is evaluated to ensure the following criteria are met:
• They have a teacher with whom we anticipate the child will work well,
• There is a mix of students from throughout the grade and not just the child's current class,
• They have at least one friend,
• There is an appropriate academic group for each subject area,
• There is separation from particular children, if necessary.
Additionally, we seek to ensure heterogeneous classes with students at a range of ability levels in all subject areas, a balance of girls and boys, a distribution of students needing greater than average attention for any reason, a distribution of students whose enthusiasm will help create an engaging learning environment and the intangible of how we imagine each of these groups of students will gel as a community.
During the weeks that we work on class placement, teachers reflect constantly on their students and often come to me worried that a particular child's placement in a class is not right and needs to be changed. We continue to review the classes, child by child, to see that we meet as many criteria as we can. Finally, we ask our teachers, "Would you want to teach this class?" When our current grade level teachers concur they would want to teach each of these classes for the upcoming year, we feel we have a good working draft.
While some might consider our work is done at this point, there is another vital component to class placement: parent voice. After we have completed our draft, we turn to letters from parents and notes from conversations parents have had with me. We do not accept requests for particular teachers and if requests for specific teachers are made, which is against our policy, I do not even share them with teachers for consideration. We do embrace parent input concerning pertinent information about children that will be helpful in the placement process.
Why do we wait to include parent voice until after our first placement draft is complete? Our own understanding of individual student needs and the needs of the grade community guide our process. We know our students, our classes and our grades well. We strive to do right by each and every child as well as by each class community and by the grade. Parents can be confident that whether or not they write me a letter or share input with me verbally, we will assess every child's placement needs with great care and respect.
What happens as we review parent input in the spring? Remarkably, in the vast majority of cases, I would venture to say close to 90% of the students we place are just as parents requested prior to reviewing parent input. This demonstrates the care we take in placing each child and our strong partnership with parents in understanding our children as we work together throughout the year. When we have not met the criteria of a parent request, we reflect on the placement. At times, we stand by our placement as best for a particular child. In those cases, I make note of the rationale for the placement and am prepared to explain to a parent who calls to inquire. At other times, we acknowledge humbly that the parent has an important and different perspective, or has shared compelling information of which we were not aware. In those cases, we make changes.
So, what is a parent who is concerned about placement to do at this time of year? There are really two options:
1. Do nothing and rest assured that we are attending to the placement needs of all of our children with tremendous care.
2. Write a letter to Ms. Guillou with pertinent input including educational reasons you want to share about the class placement process.
But parents should know, once we complete the placement process it is virtually impossible to revise given the plethora of criteria we are balancing. If you have any questions or concerns regarding placement, please contact Ms. Guillou.
Calendar Items:
I would like to give you a list of dates to the end of June that we have set in the calendar already.  I don't want to overwhelm you and this is certainly not a complete list, but these are confirmed dates for your calendar.  Some of the dates do not have times yet, this information will be updated later.  All of these dates can also be found on our school calendar at https://jke.sd35.bc.ca/news-events/
Upcoming Dates:
Mar 13-24               Spring Break
Mar 27                    Neufeld Order deadline – 12 noon
Mar 31                    PAC Movie Night – "Sing"
Apr 3                       Fruit & Veggie delivery
Apr 7                       Class photos – bring your smile!
Hot Lunch – Taco Del Mar
Collaboration Day – Early dismissal at 1:30 pm
Apr 12-13               Heritage Fair presentations in the gym.  More information coming.
Apr 14                     Good Friday – no school
Apr 17                     Easter Monday – no school
Apr 20                     Internet Safety Presentation for parents – 6:30pm at JKE
Apr 21                     Hot Lunch – Hot Dogs
Apr 24                     Fruit & Veggie delivery
Apr 25                     Jump Rope For Heart – kick-off assembly, 1:00 pm
Apr 27                     Ready, Set, Learn – 1:30-2:30 pm for 3 and 4-year old children
Apr 29                     Kids Swap Meet, 10:00 – 1:00 pm in the gym.  Details yet to come.
May 1                       Ache Brasil performance in the gym at 1:00 pm Everyone Welcome
May 2                       District Transition to Middle School session at WGSS, 7:00 pm FINAL SESSION
May 4                       PAC Movie Night – "Rogue One", 6:30 pm
May 5                       Pro-D Day – school not in session
May 8-10                 Gr 7 Camp
May 9                       Gr 6 Immunizations, 9:00 am
May 11-12               Jump Rope For Heart – Jump Day
May 11                    Collaboration  Day – Early dismissal at 1:30 pm
May 17                    PAC Meeting 6:30 pm (elections for next year)
May 22                    Victoria Day – no school
May 30                    Robotics Showcase in the gym, 3:00 pm All Welcome
Jun 13                     Summer Concert time TBA
Jun 27                     Gr 7 Farewell evening Time TBA
Jun 28                     Cultus Lake Water Park for all intermediates
Jun 29                     Last Day / Final Report Cards go home
I wish you all a fabulous Spring Break and I  will see you all again on Monday, March 27th.   I leave you once again with some beautiful hallway art, done by your wonderful children. Enjoy!
Ms. Michelle Guillou    Principal École James Kennedy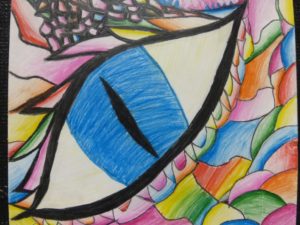 February 17, 2017
Friday, February 19, 2017
The snow has almost melted and that means rivers are running through the playground for all to enjoy.  Rubber boots are the order of the day right now, with the fields and grounds being completely saturated with the snow melt.  Students have been happy to be outside, playing in the fresh air on ground that is finally solid and not slippery.  We are definitely not northerners!
Here are some upcoming dates to keep in mind:
Mon., Feb. 20     Early Dismissal at 11:30 a.m. for Report Card Prep
Wed., Feb. 22     Pink Shirt Day and Diversity and Respect Week
Thurs., Feb. 23     6:00 pm Camp Jubilee Meeting for grade seven parents, library
Fri., Feb. 24     Pro. D. Day:  Schools Closed to Students
Mon., Feb. 27     7:00 p.m. Middle School Transition Meeting at WGSS for all parents
Tues., Feb. 28     1:30 p.m. Ready, Set, Learn for 3 & 4 year old children in the library
Fri., Mar. 1     1:30 p.m. Speed Control school performance in the gym
Wed., Mar. 8     1 hour early dismissal for parent teacher conferences at 1:45 p.m.
Thurs., Mar. 9     1 hour early dismissal for parent teacher conferences at 1:45 p.m.
Fri., Mar. 10     Last day of classes prior to Spring Break
Mon., Mar. 27     School re-opens after Spring Break
Wed., Mar. 29     Fire Safety House coming to JKE for three days (W – F)
 James Kennedy last week!
Students in Mme. Fontaine's and Mme. Keyhoe's class presented "Raven Brings the Light" by Roy Henry Vickers as a shadow puppet play.  They will be sharing their performance with other classes in the music room with Mrs. Roberts.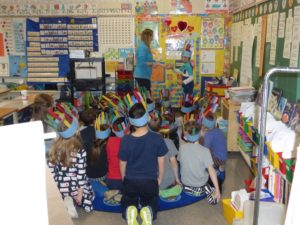 It was 100's Day in Mme. Foulds class.  Students were celebrating the 100th day of school this year, by wearing 100 day hats, and in this picture the special helper is explaining that there are 100 ones in one 100 for place value.  There were many other 100 day activities happening through out the school.
Reading, reading everywhere!  Students and staff were reading together and final term assessments were being completed last week for term two report cards which will be coming home on Friday, March 3.  Parent Teacher and Student-Led Conferences will be held on March 8th and 9th.  I will send home the link for conference sign up this week.
The students in Mme. Marcus' class have been studying simple machines and last week students brought in their final projects to share with the class.  Strangely enough, there were many machines that popped balloons.  The projects made a real bang!
On Friday Afternoon, Mrs. Roberts organized a Face Time session with Roy Henry Vickers, First Nations artist and author.  He retold some of his stories for our students in grades Kindergarten to grade three and then answered their many questions.  Students  and staff were captivated by his storytelling talent and warm personality.  It felt like we were all sitting down personally with him to share a wonderful afternoon of storytelling wonder.
I leave you with a fun piece art depicting perspective.
Wishing you all a wonderful week!
Michelle Guillou
Principal École James Kennedy
Newsletter January 31, 2017
Tuesday, January 31, 2017
Dear Parents/Guardians,
Will the groundhog see his shadow on Thursday?  I guess your answer will depend on if you are a skier or not!  It's hard to believe that we have already reached February, and over half of the school year is finished.  Has your child(dren) reached the goals they set for themselves at the November conferences in first term?  It's a good time to dig out those goals and celebrate the ones that your child  has accomplished and then focus on the ones that they are still working on.
We use a very important word with our students, it's not a big word and it's not a fancy word, but it works wonders for their self-esteem. The magic word is "Yet".  When a student tells us, "I don't understand this math."  We reply with, "You don't know it yet."  Learning is all about not knowing something yet, and helping students understand that most learning doesn't happen instantaneously will lessen their anxiety about learning and boost their self-esteem. By responding with the word yet, you will build their grit and determination to stick with the messy work that is learning.
Transition to Middle School Programming in the Walnut Grove Community: 
Meeting Tonight at Walnut Grove Senior Secondary
Agenda 2017Jan31 – Community Mtg 1
Parents and staff are invited out tonight to hear the Philosophy for Middle Schools followed by the consultation meeting.  Please feel free to park here at the school and walk over to WGSS if their lot is full. 
St. John Ambulance Therapy Dog Program
On Monday, January 30th we had a visit from a Therapy Dog.  Here is some information from their brochure on Therapy Dogs and Paws 4 Stories.
"Why Therapy Dogs?  When a Therapy Dog is listening, the environment is transformed and a child's fear is replaced with eager anticipation, and learning occurs.  Therapy Dogs are ideal for reading companions because they:
help increase relaxation,
listen attentively,
do not judge, laugh or criticize,
allow children to proceed at their own pace,
and are less intimidating than peers."
From the positive response of our students, I am looking into having the Paws 4 Stories program begin at James Kennedy Elementary.  You can find all of the information on their website at http://www.sja.ca/English/Community-Services/Pages/Therapy%20Dog%20Services/default.aspx  I will let you know when we have a team ready to visit our school once a week.
Upcoming Dates!
Tues., Feb. 31     Tonight!  Transition to Middle School Programming at WGSS
Wed., Jan. 1        Early Dismissal at 1:30 pm for Collaboration Afternoon
Thurs., Jan. 2       Final Ski Trip Day:  Bus leaves the school at 2:30 pm
Thurs., Jan. 2      Grade 7 Open House at WGSS starting at 6:30 pm to 8:30 pm                             (French Immersion meeting begins at 5:45 to 6:25 in the WGSS Library
Fri., Feb 3            PAC Hot Lunch –  Opa Greek & Cupcakes
Mon., Feb. 6        Fruit and Vegetable Delivery Day
Thurs., Feb. 9      Langley Ukulele Group performing at JKE for our intermediates at 1pm
Mon., Feb. 13      Family Day B.C.:  All Schools Closed
Fri., Feb. 17         Hot Dogs and Booster Juice
Mon., Feb. 20     Early Dismissal at 11:30 am for Report Card Prep Half-Day
Fri., Feb. 24        District Pro. D Day:  All Schools Closed
I leave you this week with some beautiful hallway art from our amazing and talented students; your kids!
Have a wonderful week.
Michelle Guillou, Principal Ecole James Kennedy Elementary
Newsletter January 19, 2017
Thursday, January 19, 2017
Dear Parents,
Winter has certainly kept all of us on our toes, leaving us to pick our way gingerly across the ice.  Students have managed very well on our reduced playground surfaces, playing cooperatively in very small areas.  The Township of Langley has closed all of the Township fields until further notice, which is why we have to keep the students off of the top fields.  The upper fields at James Kennedy belong to the Township and we share the land with them.  We have certainly appreciated the Township maintaining the walking loop around the property; this has allowed students to have longer walks every day.
Our grade 6 and 7 students are enjoying the ski program again this year at Mt. Seymour.  Participating students are receiving four small group evening lessons and a season's pass to the hill.  Thank you, to Mrs. Cramer and Mme. St. Pierre for organizing the Learn to Ski Program.
   Walnut Grove Community Consultation Dates:
Tuesday, January 31st, 2017, 6:00 pm Pre-meeting on Middle School Philosophy, 7:00pm Consultation Meeting at Walnut Grove Secondary School
Monday, February 27th, 2017, 7:00 pm at Walnut Grove Secondary School
Tuesday, May 2nd, 2017,  7:00 pm at Walnut Grove Secondary School
– See more at: https://www.sd35.bc.ca/news-events/consultations-info-meetings/long-term-facilities-plan/transition-to-middle-school-programming/walnut-grove-community/#sthash.uumIoafj.dpuf
I encourage you to attend the meetings, to better understand the process and to provide valuable insight into our community to help ensure a smooth transition to a middle school model.  You can provide your feedback in person at the meeting or on line at feedback@sd35.bc.ca   It would be helpful to identify your feedback as coming from the WGSS family of schools.
Grade 6 & 7 Girls and Boys Basketball:
Basketball season started up this week with the formation of teams, schedules and securing coaches and teacher sponsors.  I would like to thank everyone who answered my plea for help to find parent coaches. We now have a four committed coaches and teachers which will ensure that our students have the opportunity to play and compete.  If you have any questions regarding the game schedules or practices, please contact Mr. Knox at the school.
Upcoming Dates:
Mon., Jan. 23     Fruit and Vegetable Delivery
Mon., Jan. 23     Project Soul Performance K to 7 at 1:00 pm.  Everyone welcome
Tues., Jan. 24     Ready, Set, Learn for 3 and 4 year olds at 1:30 pm.  Register with Mrs.
                           Sollows.
Thurs., Jan. 26   Ski Trip #3  (2:30 pm to 8:30 pm)
Fri., Jan. 27        Walnut Grove Secondary Band performance at 9:00 for K to 7.  All Welcome
Fri., Jan. 27        PAC Movie Night: doors open at 6:00 pm
Tues., Jan. 31    Walnut Grove Middle School Consultation Meeting:  6:00 pm
Wed., Feb. 1      Early Dismissal for Collaboration Afternoon:  Dismissal at 1:30 pm
Thurs., Feb. 2    Vision and Hearing Screening for K's at 9:00 am
Thurs., Feb. 2     Ski Trip #4 (final set of lessons)
Thurs., Feb. 2     WGSS Open House for grade 7 students and parents.  Parents of skiers are
                           encouraged to attend the evening.  Students will have an opportunity
                           to visit the high school later in the year.
Mon., Feb. 6      Fruit and Vegetable Delivery
Thurs., Feb. 9    Langley Ukulele Group performing for Intermediate students at 1:00 pm
I wish you all a great week!
Ms. Guillou
Principal École James Kennedy Elementary